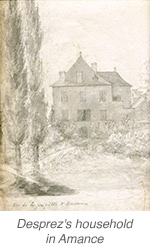 At the time of creation of this web site, just 30 of Auguste Desprez's oil canvasses had been located.

Our aim is to invite anyone who either owns a work by Desprez or knows of the where abouts of any of his work to contact us.
A first step would be to locate the 7 works that were displayed during the 3 "Salon" mentioned above.
With this end in view, please use the form here below.

We will then be able to enhance the content of this website and thereby contribute to a deeper understanding of the early-nineteenth century French school of painting.

Any information will be treated in the strictest confidence and will not be passed on without specific, written permission.
We are interested in hearing from people in the following categories:

National museums
District museums
Art Galleries outside France
Private collectors
Art historians
Auctioneers
Art experts
...