Auguste Desprez's biography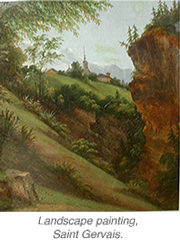 Auguste Desprez was born in 1791, there is no accurate information on where he was born but it was probably the city of Amance in the Haute-Saône district of eastern France, nearby the village of Gésincourt. He died when he was 50 years old.
His father's name is François Joseph while his mother was named Catherine de Lalle
Auguste Desprez's, works and style
If we adopt Pierre Miquel's categorisation, Auguste Desprez should be classified as a "réformateur". This group of artists who were born between 1775 and 1796 achieved a transition between neoclassicism - as represented by Pierre Henri de Valenciennes and his imagined landscapes, ideally Italianate and idyllic - and the coming romanticism. One of the primary characteristics of the "réformateur" artists was that they used to draw and paint in the open air, "sur le motif ".This was particularly true of painters working in the provinces of Dauphiné and Savoy in eastern France, especially in its mountainous areas. Desprez's landscapes clearly compare to works of neo-classicists J.V.Bertin, A.E.Michallon or J.X. Bidauld while the style of his conversation pieces manner exemplifies the realistic trend associated with romanticism. Interest in painting animals prefigures a style that would not be fully developed untill the 1840s. Desprez's drawing touch is meticulous, almost photographical, and his use of perspective masterly. His depiction of miniature figures - as well as small objects, animals and buildings - testifies to his skill as a representative artist, as do the thousands of pencil sketches that he made in the open in France, Germany and Switzerland. In many respects, Auguste Desprez can be said to stand among the forerunners of the major painting styles which would come to prevail in France later in the middle of the 19th century.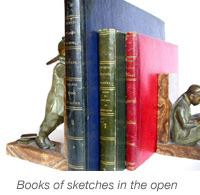 Auguste Desprez exhibited at the Louvre's SALON in Paris in 1834, 1835 and 1836; we do not know if he did sold any works or took any commissions during these exhibitions.
Emille Bellier de la Chavignerie et Louis Auvray have included titles and descriptions of the works Desprez exhibited in the SALON in their dictionary of artists of the French School :
1834 SALON : Fishmonger in Brittany ( 55*45) :
the retailer seems to insult his customer who is bargaining too hard for a turbot.
1835 SALON : Winged game retailer in Franche Comté ( 55*45).
- Crucifix fountain in Plombières at the spa (48*53) :
a young woman helps her suffering mother and begs Christ to cure her.
- View from Saint Amé in Vosges district ( 46*36).
- View of Saint Peter's square, the city hall and part of Besançon fortress ( 45*38).
- View of Amance in the Haute Saône district ( 96*45).
1836 SALON : Ruins of Bois de la Roche castle near Guingamp, Côtes du Nord district (47*66).

Signatures: three versions of Desprez's signature have been identified to date but few of his works are signed :